Our Graduate Programs
Join a growing program and be part of the future of biomedical engineering
Our goal is to produce the next generation of research leaders who will lead innovation in biomedical engineering in the 21st Century. Our graduate programs provide our students with access to a vibrant, multidisciplinary community of research and learning that prepares them for their next step in life, whether that includes industry, academia, or medical practice.
Why Choose Us for Your Graduate Experience?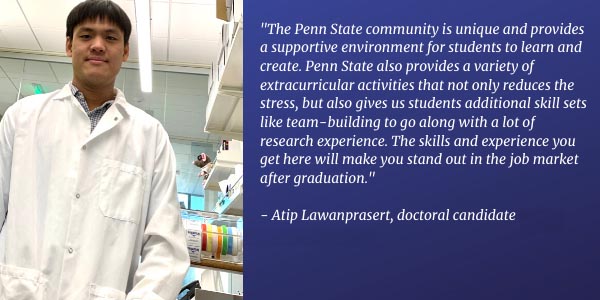 A growing department that has doubled its faculty since 2012 and increased research grants awarded annually by 117% since 2014.
The new Chemical and Biomedical Engineering Building that opened in April 2019, featuring 109,000 square feet of state-of-the-art labs, innovative collaborative spaces, bright and roomy graduate student office space, and more.
A flexible course and program structure that offers a one-year masters degree option, a Ph.D. in biomedical engineering, and even a path to an M.D.
Your choice of research mentor among expert, award-winning faculty with extensive experience in academia, medicine, and industry.
Six research areas that offer an extensive list of research opportunities thanks to our interdisciplinary collaborations across the University, such as The Huck Institutes of Life Sciences, Materials Research Institute, Penn State Hershey Medical Center, etc.
A thriving and supportive university community that is right next to State College, recently named a Top Ten College Town in America by Reviews.org.

Graduate Degree Programs
Doctor of Philosophy (Ph.D.) in Biomedical Engineering
A plan of study focused on providing each student with a strong foundation in traditional engineering and the life sciences, and a specialization in cutting-edge research applications.
The degree involves coursework, a candidacy exam following the first year, a comprehensive exam during the third year, and final exam upon completion of a doctoral dissertation.
Requirements for the Ph.D. program are typically completed within four to five years but vary depending on the scope of the research and individual education paths.
Click here to learn more about the Ph.D. Program »
---
Master of Science (M.S.) in Biomedical Engineering
Offering both thesis and non-thesis options.
The non-thesis option requires 32 credit hours to complete and a culminating research paper. The program is designed to be completed in one year.
The thesis degree option requires 30 credit hours to complete and includes the defense of a research thesis.
The M.S. program is ideal for engineers and scientists who wish to gain a deeper understanding of biomedical engineering and to explore the variety of research and design opportunities in the field.
Students are introduced to a variety of research areas and are provided training in medical device design, biomechanics, biomedical health systems, and more.
Successful graduates are positioned to become leaders in industry or may choose to use the experience as a segue for applying to biomedical engineering doctoral programs or professional degrees in the health care industry and related fields.
Click here to learn more about the non-thesis M.S. program »
Click here to learn more about the thesis M.S. program »
---
Doctor of Philosophy in Biomedical Engineering and Doctor of Medicine Ph.D./M.D.
Program is in collaboration with the College of Medicine at the Milton S. Hershey Medical Center
An opportunity for medical students to pursue a program of study leading to the Ph.D. in biomedical engineering.
Students interested in careers in academic medicine and research can obtain the necessary training in clinical and basic sciences in a seven- to eight-year period.
The joint-degree provides students with a knowledge of the breadth of clinical science, plus the ability to design experiments and conduct biomedical research with modern technology.
Please note: Application to the Ph.D./M.D. program is made by expressing interest in the program when applying for admission to the College of Medicine. Further information can be found on the College of Medicine website.
---