One-year, Non-thesis Master of Science Degree (M.S.) in Biomedical Engineering
Get your future on the fast track
Our one-year, non-thesis master's degree program provides a strong foundation in biomedical engineering, enabling you to apply your skills across a broad range of disciplines in both academia and industry.
The non-thesis M.S. is a 32-credit program that can be completed in one year for a faster path to a great career. The program is ideal for engineers with a B.S. degree who wish to gain a deeper understanding of biomedical engineering practice and explore a number of research opportunities.
We give you the options you need
Our program introduces students to a variety of research interests and provides training in:
Medical device design
Biomechanics
Biomedical health systems
And many more
Successful graduates are positioned to become leaders in industry or may choose to use the experience as a segue to apply to biomedical engineering doctoral programs.
Whether your passion is to start your own business, pursue the next ground-breaking biomedical innovation, or secure an advanced position in industry, our degree program can help you achieve your goals.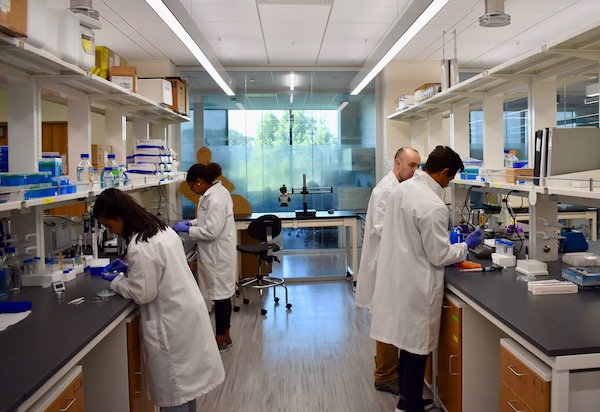 Non-thesis M.S. Course Requirements
Timeline to complete the One-year M.S. in Biomedical Engineering
The program runs fall/spring/summer with a final project due in at the end of summer. Through the fall, students will be exposed to the faculty research labs via lab tours and faculty presentations covering their current research projects. In the first month of the program, students will identify a research adviser and carry out a literature review for the proposed research. Research will continue through fall and spring semesters. Summer will be fully committed to research and writing of the final project.
Fall Semester
Take 15 credits of courses including BME 594–Graduate Seminar and BME 591–Ethics and Professional Development
Take 1 credit of BME 594-Mentored Projects
Identify adviser (no later than the end of September)
Spring Semester
Take 14 credits of courses including BME 590–Graduate Seminar and BME 429–Biomedical Mechanics and Techniques Lab
Take 2 credits of BME 594: Mentored Projects
Submit title and one page proposal on mentored research by spring break
Summer
Take 3 credits of BME 594
Submit first draft of scholarly paper by July 1
Submit final scholarly paper by August 1
Credits
| Category | Credits |
| --- | --- |
| Mentored Projects | 6 cr. |
| Foundational Courses | 9 cr. |
| Fundamental and Application Courses | 12 cr. |
| BME 590: Graduate Seminar | 2 cr. |
| BME 591: Ethics and Professional Development (2 credits BME 429, 1 credit of fall BME 594, 1 credit of spring BME 594, 2 credits of summer BME 594) | 3 cr. |
| Total Credits | 32 cr. |
Tracks
Our specialized degree tracks include:
Bioimaging
Drug Delivery
Tissue Engineering/Regenerative Medicine
Biomanufacturing
Biomaterials
Course Outline
Required Courses
BIOE 512: Cell and BioMolecular Engineering (Fall) (3 cr.)
BIOL 472: Physiology or PHSIO 571: Graduate Physiology (Fall) (3 cr.)
BIOE 504: Numerical Methods in Biomedical Engineering (Fall) (3 cr.)
BME 590: Graduate Seminar (Fall/Spring) (1 cr. each)
BME 591: Bioengineering Ethics and Professional Development (Fall) (1 cr.)
Fundamental Courses*
BIOE 501: Bioengineering Transport Phenomena
BIOE 503: Fluid Mechanics of Bioengineering Systems
BIOE 505: Bioengineering Mechanics
BIOE 506: Medical Imaging
BIOE 508: Biomedical Materials
Application Courses*
BIOE 509: Mechanobiology
BIOE 510: BioMems and Bionanotechnology
BIOE 514: Quantitative Microscopy
BIOE 515: Cell Mechanics and Biophysics
BIOE 517: Biomaterials Surface Science
BIOE 518: Organic Nanobiomaterials
BIOE 519: Artificial Organ Design
Research
BME 429: Biomedical Mechanics and Techniques Lab (2 cr.) (Spring)
BME 594: Mentored Projects (6 cr. total) (Fall/Spring/Summer)
*Fundamental and Application courses are all 3-credit courses. Take 12 credits combined of Fundamental and Application credits with minimum 3 credits of each.
Application Deadlines
The deadline to apply for the fall semester is July 15. The deadline to apply for the spring semester is December 15. International students are encouraged to apply early.
Application Criteria
Bachelor of Science Degree
Prior to beginning the program, all applicants must have obtained a bachelor of science degree or equivalent from an accredited university or institution. Engineering, science, mathematics and life science degrees are strongly preferred.
Course Requirements
All applicants must have successfully completed at least one programming course (preferably Matlab) and one differential equations course.
GPA
GPA expectations for applicants are 3.0 or higher. Lower scores will be considered under special circumstances or if other aspects of the application are deemed considerably strong.
Letters of Recommendation
Two strong letters of recommendation are required in addition to the completed application. We recommend that these be submitted by a faculty member or mentor who knows you well and can attest to your work, research, or academic merit.
It is also recommended that all applicants have knowledge of differential equations and some computer programming experience.
To Apply
Visit the Penn State Graduate School website and apply to the "BME MS" program. Be sure to mention your specific interest in the "one-year BME MS" in your personal statement.
Tuition
Tuition fees for Pennsylvania residents and non-Pennsylvania residents or international students can be found here. Typical program is full time fall and spring semesters and 2 credits in the summer.