Doctor of Philosophy (Ph.D.) in Biomedical Engineering
A flexible research program designed for your career goals
Our highly flexible, mentored biomedical engineering graduate program is multidisciplinary. Along with biomedical engineering faculty, courses are taught by faculty in the Eberly College of Science and the Colleges of Earth and Mineral Sciences, Engineering, and Medicine.
We get you ready for success
A curriculum with a strong foundation in traditional engineering and life sciences that includes fundamental coursework in biomedical engineering and a number of ancillary areas including physics, chemistry, biology, materials research, esthesiology, orthopedics and rehabilitation, and more.
Students enjoy state-of-the-art research facilities and an exclusive partnership with the Penn State Hershey Medical Center.
The unique landscape of the biomedical engineering graduate program fosters learning and collaboration among students, engineers, clinicians, and professionals in the biomedical industry.
Focused specialization in one or more cutting-edge research areas.
The degree involves graduate coursework, a candidacy exam following the first year, a comprehensive exam in the third year, and a final defense upon successful completion of a doctoral dissertation. Full requirement details and a course map can be viewed in the Graduate Student Handbook. Requirements for the Ph.D. program are typically completed within four to five years but vary depending on the scope of the research and individual education paths.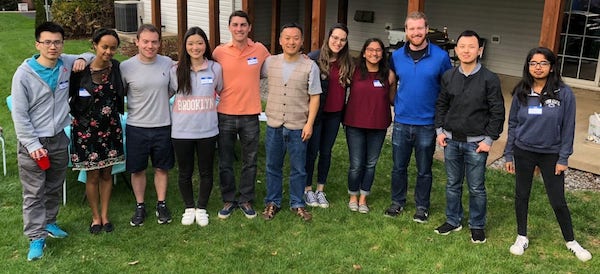 Program Requirements
Credits (total: 29 credits)
Earned at a Penn State campus and recognized by the Graduate School (20 credits)
6 credits of biomedical engineering; 6 credits of life science; 6 credits of technical/quantitative/biomedical engineering electives. 12 of these credits must be lecture- or laboratory-based and at the 500 level. The other 6 credits can be 400 or 500 level lecture-based courses and do not include the ethics course or colloquium.
Additional credits at the 500 level in courses relevant to your research (6 credits)
BIOE 590: Graduate Seminar (Register every semester until comprehensive exam is passed)
BIOE 591: Ethics and Professional Development (1 credit)
BIOE 600: Thesis Research (At least 12 credits)
A breakdown of the program requirements and the program timeline can be found in the Graduate Student Handbook.
Research Focus Areas
Application Deadline
The deadline to apply for the fall semester is December 1.
How to Apply
Visit the Penn State Graduate School website and apply to the "BME PHD" program.
Application criteria can be found on our website at How to Apply.