Multimodal and Computational Neuroimaging Laboratory
The multimodal and computational neuroimaging lab aims to accelerate basic and clinical brain research by developing and integrating multimodal neuroimaging techniques and computational methods to dissect function-related signal features in healthy and diseased brains.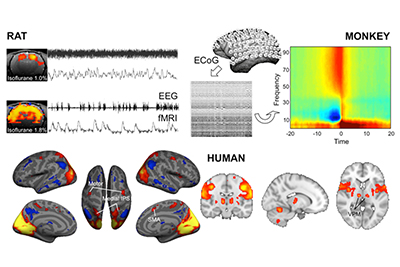 We combine magnetic resonance techniques (MRI/fMRI/MRS) and electrophysiology recordings (EEG/MEG/ECoG) to investigate the neural basis and behavioral relevance of highly organized spontaneous brain activity and connectivity. We develop computational methods and models to study temporal dynamics of brain networks by characterizing instantaneous co-activation patterns (CAPs) of the brain.
We are also interested in mining big connectome data from both healthy subjects and patients, to derive understanding of brain function from the relationships among neuroimaging data, genotype, behavior, and disease phenotype.