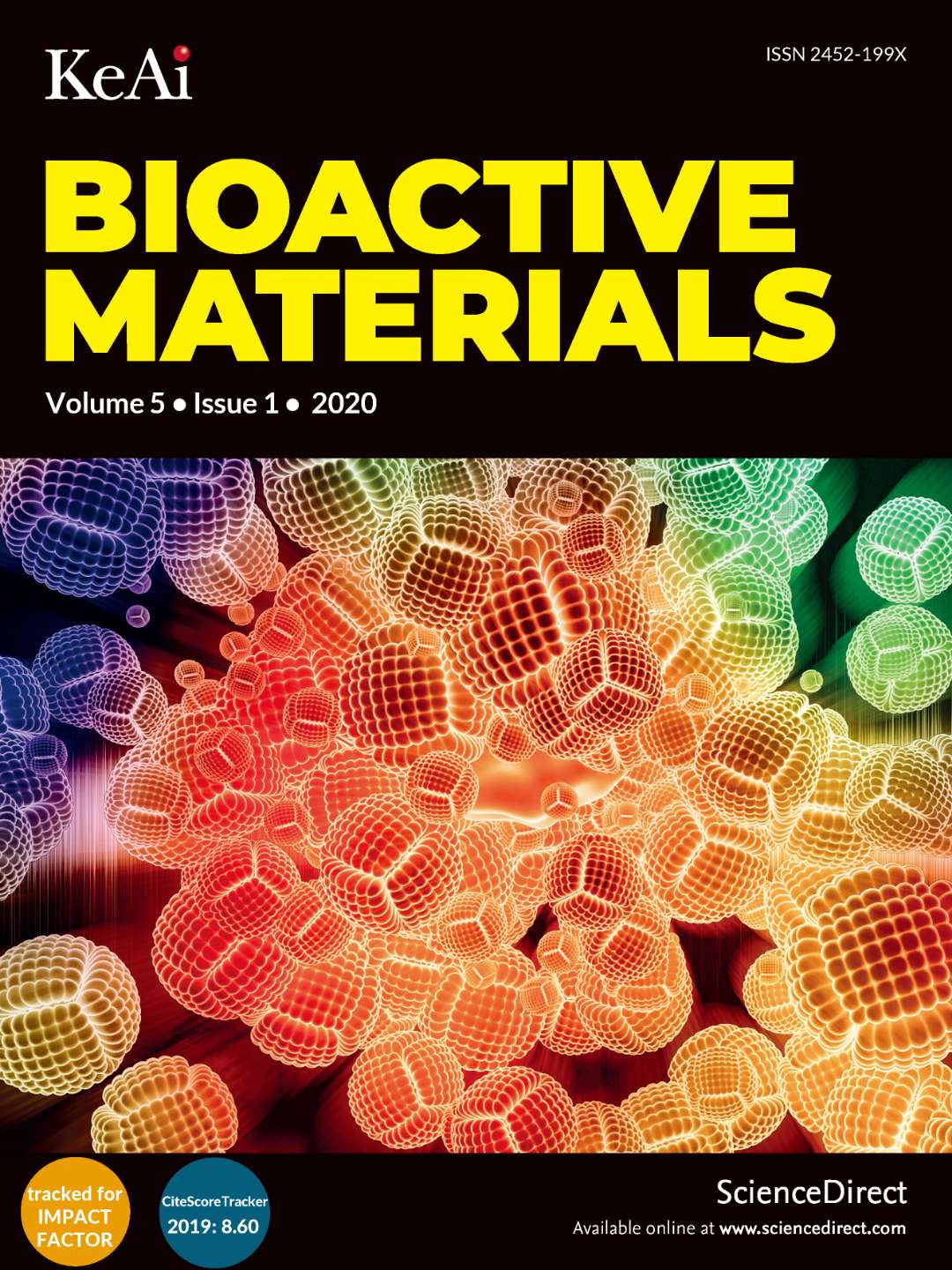 2021 Journal Impact Factor: 16.874
Jian Yang, Ph.D
Professor of Biomedical Engineering
Lloyd & Dorothy Foehr Huck Chair in Regenerative Engineering
Department of Biomedical Engineering
Materials Research Institute
The Huck Institutes of The Life Sciences
The Pennsylvania State University
W-340 Millennium Science Complex
University Park, PA 16802
Tel: 814-865-1278
Fax: 814-863-0490
Email: jxy30@psu.edu

Dr. Yang is a professor in the Department of Biomedical Engineering and Lloyd & Dorothy Foehr Huck Chair in Regenerative Engineering at Pennsylvania State University (PSU). Dr. Yang's research contributes to the innovation of citrate-based biomaterials and their applications in tissue engineering, drug delivery, biosensing, and bioimaging. Dr. Yang is also serving as a Co-Editor-in-Chief for "Bioactive Materials" (2021 IF 16.874), an Associate Editor for an AAAS journal, "Science Advances" (2021 IF 14.957), an Associate Editor for "Frontiers in Bioengineering and Biotechnology, Biomaterials section" (2021 IF 6.064), and an Editorial Board Member for ACS Biomaterials Science and Engineering, and Applied Materials Today.
Selected Honors and Awards

2022 Full Member of Sigma Xi, the Scientific Research Honor Society
2021 Fellow of American Association for the Advancement of Science (AAAS)
2020 Fellow of Biomedical Engineering Society (BMES)
2019 Lloyd & Dorothy Foehr Huck Chair in Regenerative Engineering
2018 Fellow of National Academy of Inventors (NAI)

2018 PSEAS Outstanding Research Award, Penn State University

2016 Fellow of American Institute of Medical and Biological Engineering (AIMBE)

2011 Outstanding Young Engineering Faculty Award, University of Texas, Arlington

2010 National Science Foundation (NSF) CAREER award

Former postdocs and research scholars with last known positionsolars with last known positions
Ruiquan Li, postdoc (2019-2021)
Xinyu Tan, Visiting Scholar (2019-2021); Southern Medical Universit, Guangzhou, China
Jian Zhang, postdoc (2016-2017) (now at University of Chicago, postdoc)
Kaitian Xu, Research Associate (2015-1017)
Li Li, Visiting Scholar (2016-2017)
(Sichuan University)
Min Lin, Visiting Scholar (2016-2017)
(Nanchang University)
Qing Cai, Visiting scholar (2013-2014)
( Professor at Beijing University of Chemical Technology)
Steve (Denghui) Xie, Visiting PhD student (2013-2014);
Southern Medical University, Guangzhou, China
Dianna Nguyen, Lab Technician (2013-2014)
Richard Tran, Postdoc/Research Associate (2011-2014); Acuitive Technologies, NJ
Jianqing Hu, Visiting Scholar/Postdoctoral Fellow (2013-2015); now Associate Professor at South China University of Technology, Guangzhou, China
Zhiwei Xie, Postdoc (2011-2015), Sherwin Williams
Jinshan Guo Postdoc (2011-2016); Aleo BME, Inc.
Xili Lu, Visiting Scholar (2015-2016); Harbin Engineering University
Former graduate students with last known positions
At PSU
Yuqi Wang (MS, Biomedical Engineering, 220-2021)
Qiyao Li (PhD, Bioengineering 2015-2020)
Chuying Ma (PhD, Bioengineering 2014-2019)
Dingying Shan (PhD, Bioengineering 2013-2018)
Jimin Peter Kim (PhD, Bioengineering, 2014-2018; FDA)
Gerald Kirk (MS. Bioengineering, 2015-2017)
Gloria Bora Kim (PhD, Bioengineering, -2017; U Penn Postdoc)
Surge Kalaba (MS. Bioengineering, 2014-2016; General Electric)
Yixue Su (MS. Bioengineering, 2013-2016; Cleveland Clinics, OH)
Prior to PSU
Jeena Mathew
(MS, Bioengineering, 2007, UTA. Research Associate, Georgetown University)

Jaya Ram Banjara
(MS, Bioengineering, 2008, UTA)

Purak Khadka
(MS, Bioengineering, 2008, UTA)

Binod Basnet
(MS, Bioengineering, 2008, UTA)

Santosh Gautam
(MS, Bioengineering, 2008, UTA)

Jagannath Dey
(MS, Bioengineering, 2008, UTA. BIND Bioscience)

Preethi Suriamoorthy
(MS, Bioengineering, 2009, UTA)

Dipendra Gyawali
(MS, Bioengineering, 2009. Genzyme, Boston)

Shengyuan Zhou
(MS, MSE, 2010, UTA)

Parvathi Nair
(MS, BE 2010, UTA)

Elhum Naseri
(MS,BE 2010, now UTSW Research Assistant)

Santosh Kumar Kumar Beeram
(MS, BE 2010)

Richard T. Tran
(PhD, 2011. Acuitive Technologies, Inc)

Elaheh Naseri
(MS, BE, 2011)

Yi Zhang
(PhD, BE 2012, zhangyi19850520@gmail.com, postdoc at MIT)

Michael Palmer
(PhD student at UTA, michael.palmer@mavs.uta.edu)

Aniket Wadajkar
(PhD, BE, 2012, co-supervised with Dr. Kytai Nguyen, aniketwadajkar@yahoo.com, Applied DNA Sciences, Stony Brook, NY)

Aleksey V. Kolasnikov
(MS, BE 2012, now Dow Chemicals, Houston, TX)

Aram Naseri
(MS, BE, UTA 2012)

Pouriska Kivanany
(MS, BE, 2012, UTA, pouriska.kivanany@mavs.uta.edu)

Mohammadreza Mehdi Zadeh
(PhD, MSE, 2012, UTA, mohammadreza.mehdizadeh@mavs.uta.edu, now at Invista)

Mandy Su
(MS, BE, 2012, UTA, mandy.4020@gmail.com, now at UTSW)

Chang Zhang
(MS, BE, 2013, UTA, downtown_zc@hotmail.com, Boston University, lab manager)
Former undergradaute students, high school students, and Summer Interns (as of 2018)
John Fadel (BME); Samantha Kirk (BME); Kevin Rahn (BME); William Su (BME); Hui Xu (BME); Ye Zhu (BME); Ruiqi Dong (ChE); Denis Pasic (BME); Julianne Baker (BME); Nmachi Anumba (BME); Qiaolign Lin (BME); Jiarong Lin (BME); Jing Chen (BME), Claire Tse (BMB)
Kenny Yau, Biochemistry
Madeline Annabele Ferraro
(BME, PSU, 2014-2016)
Demetrius Harris
(BME, PSU, 2014-2016)
Brady Goulden
(Genetics and Developmental Biology, PSU, 2015-2016)
Sara Orr
(BME, PSU, 2013-2015, Albert Einstein College of Medicine)
Bardia Jahanshahi
(Chemistry, PSU, 2014-2015)
Lenor Hellmund
(BME, PSU, 2014-2015)
Samuel Vilchez
(BME, PSU, 2014-2015, PSU BME graduate program, Pak Wong lab)
Grace Warkulwiz
(BME, COE REU, PSU, 2013-2015)
Carina Chu
(ESM, COE REU, PSU 2013-2014)
Spencer Seipt
(COE REU, PSU, Summer 2014)
Prior to PSU
Elsa Cigainero
(BS, Biology, UTA 2011)
Ibrahim Qattan
(BS, Biology, UTA, ibrahim.qattan@mavs.uta.edu, Southern College of Optometry)
Natasha KC
(BS, 2010, now Sanaria in Rockville, MD)
Sara Wadud
(Undergraduate, Biology, UTA, sara.wadud@mavs.uta.edu)
Thomas Wang, Mansfield High School, Mansfield, TX, 2009 Summer. UT Austin

Arjun Awasthi, Martin High School, Arlington, TX, 2009 Summer. UT Austin

Jimmy Zhu, Martin High School, Arlington, TX, 2009, 2010 Summer. Cornell University

Diane Manry, The Oakridge School, Arlington, TX, 2010 Summer. Princeton University

David Chou, Undergraduate student at UT Austin BME, 2010 Summer

Michael Lau, Martin High School, Arlington, TX, 2010 Summer

Brian Bates, Martin High School, Arlington, TX, 2010 Summer

Ken Lee, Martin High School, Arlington, TX, 2010 Summer

Dalton Alstaetter, Martin High School, Arlington, TX, 2010 Summer

Anna Liu, Martin High School, Arlington, TX, 2010 Summer